About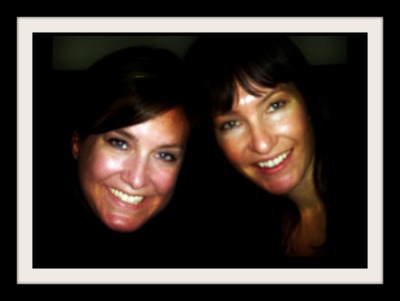 About the Authors: Pen Name LaDyLaDuke... Courtney Gillard and Betina Powers are sisters, Owners and Designers of
LaDy LaDuke...Unique Items For Mothers & Women
, which they founded in 2009. Their maiden name is LaDuke. While growing up in a big family--sharing a room, and playing dress up, being imaginative was second nature. All of that creativity from childhood stuck with them as they ventured through life to eventually become business partners and co-authors. They invented The Feeder Frock Nursing Cover, and have a collection of handmade nursing covers, maternity clothes and nursery décor they sell on
Etsy
. Their handmade business got them into blogging, which ignited their passions in writing and becoming authors. They embrace both their artistic and business sides, and love to share what they know and learn with other Mompreneurs. Courtney's SEO & Business Consulting Services for fellow Entrepreneurs at
SEO Brand Magic & Etsy Business Shop
, and creating content and business information products for their
Mom Blogger PLR Boutique
, give them that perfect balance to design, fashion and writing and illustrating fiction for children. Courtney & Betina both studied at Arizona Universities receiving their Bachelor's Degrees in Linguistics and Criminal Justice, respectively.
The Viking & the hermit came to me while teasing my husband about me being so tall and Viking, and him being so short. It just hit me that we had a couple of really interesting characters for some great story telling.~Courtney
Courtney told me her book idea, and I just loved it! My kids loved it too, and really enjoy collaborating on our story ideas and illustrations. We are creating a whole new world on Hermit Island, drawing from our own experiences and local Desert environment. We hope you enjoy our series as much as we are!~Betina
Reviews:
Very Cute! Definitely an enjoyable read for kids. The storyline is very entertaining and the illustrations are adorable. Can't wait to read more!
Simply Charming! I volunteer in a kindergarten class, and I'm always looking for books to read to the students. I found this storybook simply charming! The story and the characters are wonderful, and the illustrations are so colorful and appealing for a children's book! I look forward to reading it to the students and following the series.
The Viking & the hermit is a Children's Book Series in Fiction… Get Books 1, 2 & 3:
The Viking & the hermit: Spear Fishing with Sasha & Kasha
The Viking & the hermit: The Grabbas Are Coming
The Viking & the hermit: Shaku Riding
on Amazon Kindle today!
Google
Google+
Buy Our Books
LaDy LaDuke's Author Page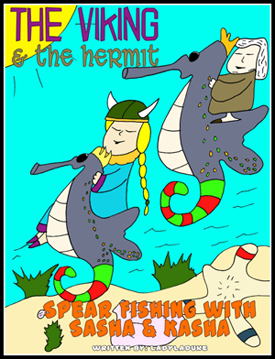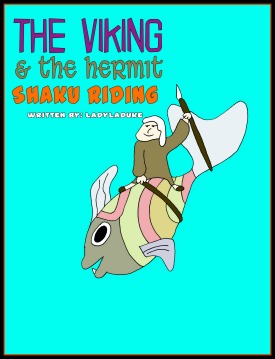 From the Blog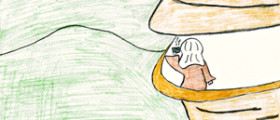 Do you know of any Hermits? How do hermits live, and would you like to meet Hermit from Hermit Island? Hermits are known to be alone, yet this Hermit from … [Read More...]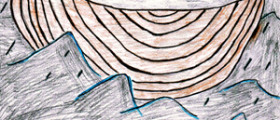 A Viking Story... The rain drops hit Viking's forehead, and roll down into her eyes.  They sting, but soothe the burning from her own tears. She … [Read More...]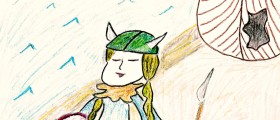 Spear Fishing with Viking and Hermit at Hermit Island Bay is not the usual spear fishing trip... You can learn spear fishing too, and take a peek inside … [Read More...]
Sketches