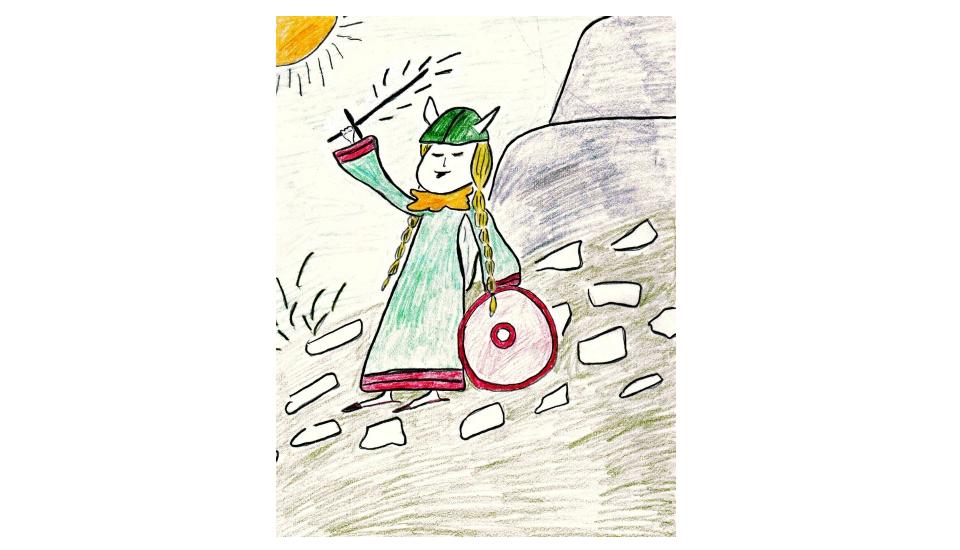 Today's Hermipedia Feature: Viking Helmet
Viking Helmets, Arms and Armour:
Much of the arms and armour used by Vikings indicated a Viking's social status, and a Viking helmet is thought to have been limited to the very richest of their society.  As war was a very prestigious activity, the nobility and professional warriors were likely to have worn a Viking helmet.  The average Viking might have just a spear, shield, an axe, large knife or hunting bow.
Beautifully finished and refined weapons showing quality and color were a way for a Viking to present her wealth and place in society.
The end of the 8th to the mid 11th century marks the Viking Age, and there are very few archaeological finds to tell a definitive story.  Much of what we know and think of Vikings comes from Old Norse tales that were written in the 13th century.
These tales are called Sagas, which are stories about ancient Scandinavian and Germanic history, voyages and battles, and they were written in Old Norse, which is an Icelandic language.
Viking Helmet:
There is only one known complete Viking helmet in existence today that came from a village in central Norway.  It has a rounded cap and a guard for the eyes and nose made of iron.  This helmet does not display any refined finishes or color. Helmets were made of iron, as well as hardened leather and iron strips.
A Viking helmet may have been inherited, and passed down from generation to generation instead of being buried, giving reason to the limited archaeological findings. The helmets were likely passed from father to son.
The horned Viking helmet we think of today, and that Viking wears on Hermit Island, may have been used for ceremonies or rituals, and less likely in war or battles. These helmets likely displayed distinctive color and style of workmanship.
Romantic Viking Helmet:
The horned helmet came from Romantic artists in the Romantic Age from the late 1700's to the mid 1800's.  These artists gave Vikings winged helmets in their artwork.  It wasn't until 1820 that a Swedish artist illustrated a Swedish poem showing horns instead of wings on the helmets.  This picked up in artistic expression, and stayed with the common depictions of Vikings in art.
The horned helmet didn't completely take over the winged artistic expression until the 1890's, through German and English illustrated children's books.
The Viking & the hermit Viking Helmet:
Viking's horned helmet is made from exquisitely dyed hardened leather in deep, emerald green color with welting detail and golden dyed leather trim.  It was a special gift from her father…custom made and dyed with the finest care from the best hatter of helmets in the village, and the most prized oxen.
"Viking often grabs her helmet horn while thinking, especially while listening and learning from Hermit, and taps her finger on the tip of the horn.  One of the bone tips is slightly worn, and less sharp, because of her habit.  She finds herself thinking of her father at those moments, and how he taught her so much, just like Hermit."
Hermipedia Feature: Viking Helmet