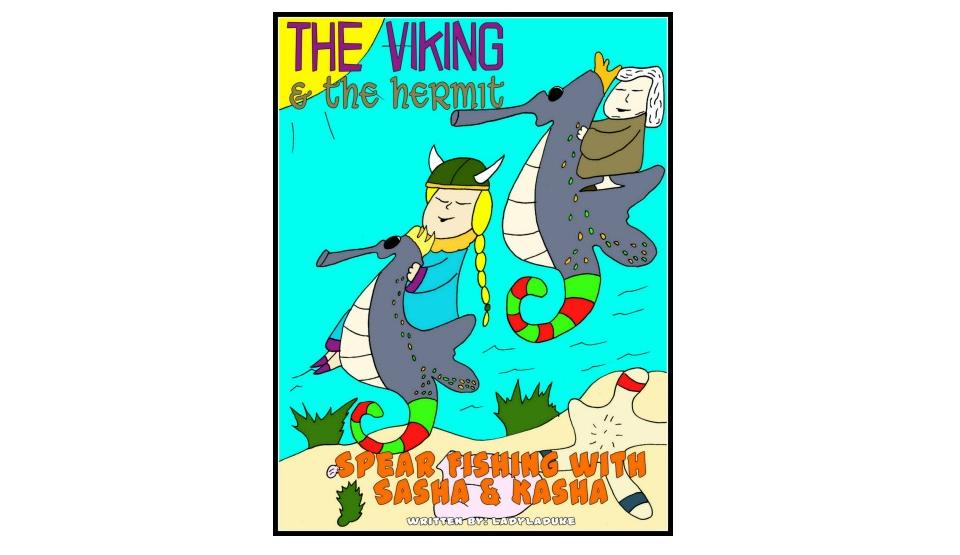 "Viking?"
"Yes, Hermit"
"Do you know what they are saying about our story books, Viking?"
"No.  What are they saying?"
"I think they like them!"
"They do, Hermit?"
"It seems so, Viking."
"One of our readers said we are 'Simply Charming'."
"Hermit, I think I am blushing."
"Your face is red, Viking."
"Is it? Now it is even more red."
"Do you want to know what some of our readers said, Viking?"
"Oh yes, Hermit.  Tell me!"
"Here are some customer reviews on Amazon about our Viking story book for children, Viking"…
Very Cute! 5 stars…Definitely an enjoyable read for kids. The storyline is very entertaining and the illustrations are adorable. Can't wait to read more!

Simply Charming! 5 stars…I volunteer in a kindergarten class, and I'm always looking for books to read to the students. I found this storybook simply charming!

The story and the characters are wonderful, and the illustrations are so colorful and appealing for a children's book!

I look forward to reading it to the students and following the series.

The Viking and the Hermit 5 stars…A good story for kids, very imaginative and colorful. It pulls the reader into the world of the Hermit's island and the beginning of adventures to come.

The Viking and the hermit 5 stars…Interesting idea. I read it for my girls and than faced some questions about Vikings that 'forced' me to refresh my history lessons. It was fun and beneficial for both, girls and myself. I am looking forward to reading the Book 2 that was announced from the same series.

Super Book for Kids 4 stars…I read this book with my 5-year old… twice in fact as she enjoyed so much..!

Nice storyline and very creative..

What a cute story! 5 stars…I got this book for my niece. I wanted her listen to a story different from what she had already heard before. I'm glad I picked up this book. The story is very entertaining for kids and the illustrations are super cute! Great find!
"Wow, Hermit!  I think they really do like us and our story book! Those are a lot of stars."
"Those stars were all for our first story book, and they still have to read our second story book, Viking."
"Oh yes.  They must read our second story book to find out how I did with my spear fishing."
"Yes indeed, Viking.  Spear fishing here on Hermit Island is not like any other spear fishing, is it?"
"I will give you that, Hermit…indeed!  I can't wait to hear what they think of our second story book, and of course, our third story book is almost ready to tell as well."
"Shh, Viking.  Don't give it away!"
"I know.  They will have to find out, won't they?"
"Yes, Viking.  They can find out all about The Grabbas Are Coming next."
"Let's get back to Clam House Clearing, shall we Viking?"
"Sounds good, Hermit."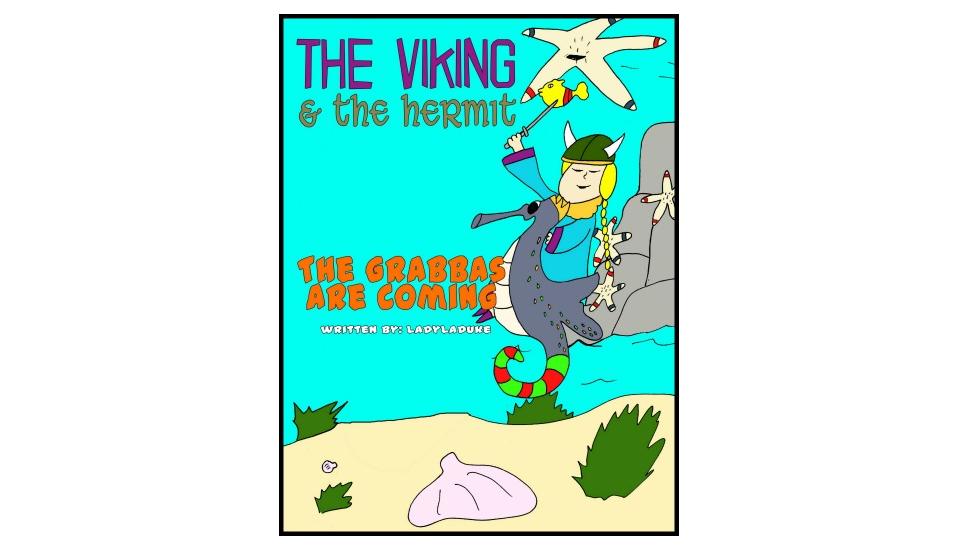 Stay tuned for the Viking Story Book 3: Shaku Riding, and its release this December, along with a special 3 Story Book Combo in print! Sign up for our newsletter to get a FREE Shaku Coloring Picture!